Climbing For A Cause
Wednesday, August 21, 2019
For many, Oregon is viewed as a pristine, lush, and beautiful environment that is perfect for nature-lovers. Anyone from serious hikers to recreational explorers can find something to enjoy about Oregon's scenery. From deep forests to soaring mountaintops, Oregon is home to a variety of landscapes that can mesmerize any wilderness adventurer.
When she was 12 years old, Annie Pomeranz, Territory's Director of Operations and Program Management attended her first downhill ski racing summer camp on Mt. Hood. A passionate skier, Annie quickly formed a love for Oregon's highest peak and its year-round glacier snowpack. Now as a mother of two lively boys, Annie spends nearly every winter weekend teaching her own children how to ski on her beloved Mt. Hood.
Annie's active lifestyle is directly connected to her love of the outdoors and a healthy planet. In 2016, researchers discovered that her local neighborhood and home were in a direct hot spot of toxic air emissions and heavy metal pollutants due to a nearby manufacturing company and poor state regulatory policies. This raised serious concerns as she and her neighbors considered where their children played, went to school, and how they might be negatively affected by their surrounding urban environment. As a result, Annie joined the East Portland Air Coalition whose mission is to change Oregon's laws and protect communities. It was through this organization that Annie learned about the American Lung Association's Climb for Clean Air fundraising challenge.
This program, which is specific to the Oregon and Washington Northwest region, raises over $300,000 to support community-based education programs, fight for cleaner air standards, and fund life-saving research. In addition to the fundraising goal, participants commit to summiting 1 of 3 major northwest mountain peaks, and Mt. Hood was on the list!
For Annie's 40th birthday, she decided to take on the Climb for Clean Air challenge, combining a cause she believed in—clean air and healthy lungs—with her passion for the outdoors and love of Mt. Hood. Annie successfully reached her fundraising goal, raising $4,000 with the help of her friends and family and some creative fundraising events (including a clothing donation drive, garage sale, and lemonade/Popsicle stand). And at long last, at 11 pm on the evening of May 30, 2019, it was time to climb Mt. Hood.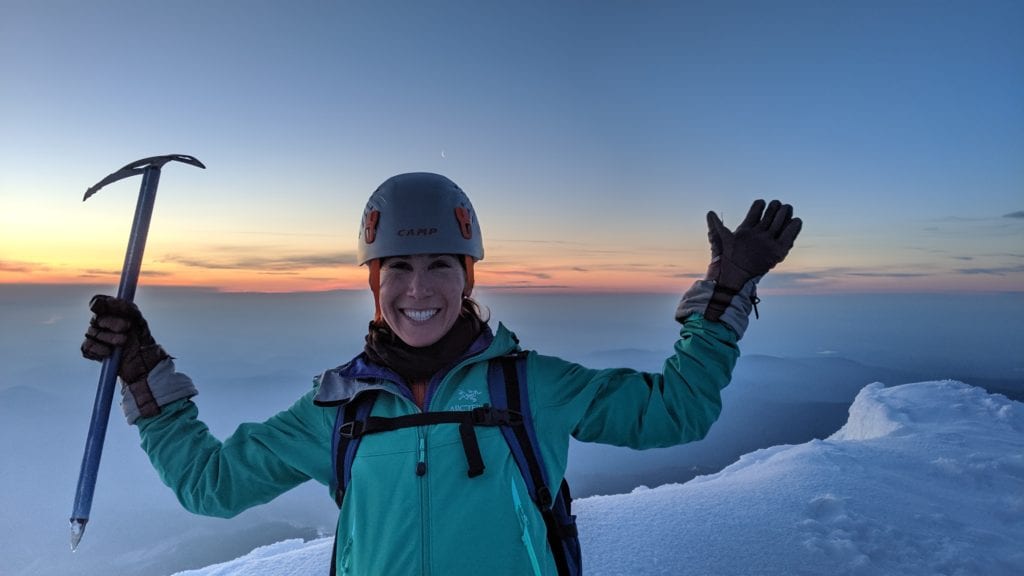 Geared up with headlamps, crampons, and ice-axes, and beneath a pristine, starlit sky, the climbing team set out with the goal of reaching the summit just in time to catch the sunrise around 5 am. Six hours later, Annie stood at the 11,250 ft. mountain peak and witnessed a spectacular sunrise from atop Mt. Hood! The experience left Annie motivated and inspired to take on whatever challenge may come next. As Dr. Seuss, one of Annie and her kids' favorite children's book authors, says: "You're off to Great Places! Today is your day! Your mountain is waiting, so… get on your way!"
If you'd like to learn more about the American Lung Association's Climb for Clean Air program, check out their website.
---

---