We help teams identify new ways of thinking, recognize opportunities, and evolve into more competitive, agile, and responsive organizations.
Innovation starts with you; let's make it approachable. Download this tool to explore three types of innovation and learn the necessary steps to turn your idea into a plan of action.
Download our Innovation Worksheet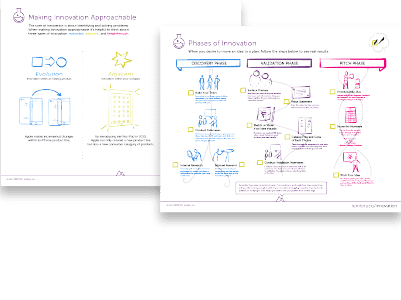 Define your ambitions
Where will innovation take your organization? We'll work with you to hone the strategy that empowers your people to seed and nurture an environment for innovation. Then we'll help you put tools in place to monitor progress as your teams blossom.
Achieving an aligned team vision and strategy
Kickstart your capabilities
How do you create a culture of innovation that mobilizes your organization? Inspire your people to think and work in new ways. We'll help you create work processes that support their new mindset, and develop the capabilities and systems necessary to manage it at scale.
Crafting a vision of what's possible
Accelerate your initiatives
What's the right mix of capabilities to speed innovation? We'll help you design a portfolio of activities, projects, and programs that fit your vision, define the best roles within your teams to achieve your goals, and build the tools and systems to drive your innovation programs to success.
Becoming future ready
Launch your growth
You have a viable innovation. Now what? We'll help you release your programs and teams into the wild by starting small, monitoring, adjusting, and iterating to scale.
Launching a new global operating model
Innovation as a Service
Need a good partner to spark and guide your organization's innovation initiatives? Innovation as a Service (IaaS) is Territory's expanded offering helping companies identify and develop opportunity, organize to support innovation, and become industry leaders. The on-going support model takes teams through quarterly sprints to help them unlock opportunities and create solutions for long-term success.
"Territory brought an innovative way of making strategic innovation come alive, bringing out the best of both the right and left half of your brain."
Swan Paik, Nike Innovation
On MSI Scouting team's Concept workshops