Summiting Work Forward – What Happened?
Monday, November 4, 2019
On October 8th, a stalwart group of leaders came together at the Work Forward Summit to develop "v1" of a vision of how the business of work can be better. The event was conceived because the participants recognize that today's world of work is in a state of constant change. New tools, platforms, even business models are creating challenges for organizations to stay relevant and competitive, recruit and retain top talent, and drive higher productivity. For policymakers, business leaders, and workers themselves, these challenges create uncertainty, as well as opportunity.
Today every company and consultancy has a point of view and usually suggests their singular solution or perspective as the path to success. Our assumption is that providing a broader "Work Forward" ecosystem perspective will offer companies the ability to actually see themselves in the picture and use it as a path for considering their "Work Forward" strategy.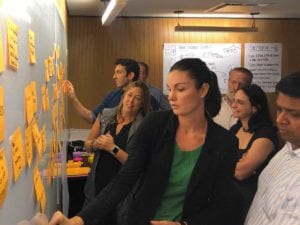 The Work Forward Summit applied a collaborative and co-creative workshop approach to developing ideas and concepts to initiate the Work Forward conversation. First, we explored why we work, landing on a set of key concepts that describe the motivations for work, which included:
Purpose – Make a better world
Money – Build wealth; fulfill one's ambition
Survival – Ensure subsistence
Community – Helping others; connecting to/serving a higher cause
Family – Addressing the needs of the ones we love
Emotion – Happiness, fun, or love
Innovate – Inspire creativity
Next, we moved on to describe the traditional activities that regularly occur in our work week. As you can imagine, the list was expansive, and we barely scratched the surface. That said, after mapping into groups, we came up with about 2 dozen key activities, such as business planning, serving customers, managing finances, communicating, procuring resources/materials, etc.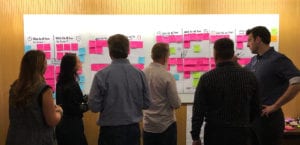 Using this set of traditional work activities as a basis for comparison, we moved on to envision what a Work Forward environment might look like. This wasn't an exercise in exploring "the future of work." Rather we used an activity to describe what a Work Forward world looks like through the lenses of Place (where), Time (when), Approach (how), and Materials (what). The activities of the Work Forward world are always advancing and bettering the "why we work" concepts to help people work better, and therefore business work better.
To build a movement and develop a manifesto declaring the aims of the Work Forward we ideated a set of principles to guide us. After individually listing many principles, the participants aligned upon this set of key principles: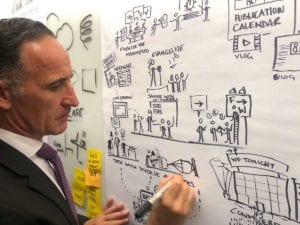 Work to live
Be transparent
Have integrity
Build empathy
Be diverse
Hold accountability
Communicate
Collaborate
Evolve
Seek growth and development
Hoping the Work Forward Summit outputs and ideas might prompt others to action, we drafted some ideas for activities that could jumpstart conversation and action at someone's organization. We ended the day by discussing how to advance the Work Forward movement and what we all could do, personally.
To see the first output of the event, the MURAL board summarizing the day's activities.
To keep up to date on the progress of Work Forward, or observe or contribute to the conversation, just go to the Work Forward group on LinkedIn.
How about attending the Work Forward Conference someday?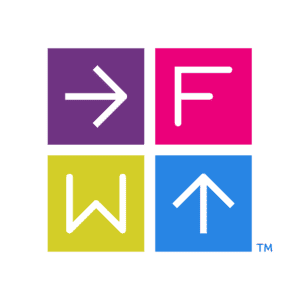 ---

---