Reimagining the definition of office
The first Work Forward Summit of 2021 was held on April 15th bringing a new event format where attendees enjoyed sharing and conversation around a key topic. This event focused on Reimagining the definition of office and learning what participants were hearing about going back to an office.
Friday, May 7, 2021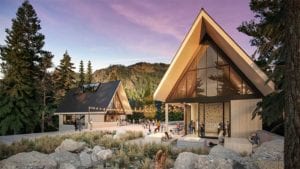 The highlight of the Summit was a presentation by Chris Nelson & Natasha Michalowsky of Capstone Partners. Capstone is developing AlpenGlow, a new concept property for where and how to work, believing that workplaces will be shaped by people creating tailored spaces for different tasks, teams, and experiences. As they said, the future of the workplace will not be in a cubicle or on a Zoom call. Innovation happens together and when we get out of the every day.
The presentation captured participants' imagination and inspired many conversations to think differently about the idea of an office and work. "Where we work should be determined by the task." You can see the visuals and video of their presentation on the Q2 Summit's MURAL board.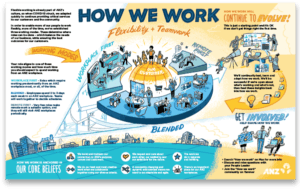 We heard a case study about ANZ from Parker Lee. The Australian-headquartered bank realized that the future of their workforce depends on the organization's ability to connect with its employees in meaningful ways and that workplaces remain critical in supporting strong connections to the company, culture, and customers. ANZ collaborated with Territory to strategize and co-create a visualization that creatively portrayed ANZ's future of work story for its employees.
And there was a lively discussion in the Zoom chat from participants. Here's a small slice of some of the dialog:
We've been heads-down struggling in our own corners of work, but there are larger themes emerging that will influence work for a generation.
This whole period has underlined that to be successful remotely you need to be much more proactive. Things don't happen by chance. You need to make a conscious effort to meet new people versus running into someone at a conference for example. Leaders who are comfortable using tech and work at connecting with people are seeing results, those who don't make the effort are becoming more disconnected.
It's a bit like being drunk. It amplifies strengths and weaknesses.
Join us at next Work Forward Summit!
Our next gathering is scheduled for July 15th. You can register today, and we hope you'll bring a friend… or two! We'll continue with the same format, but with opportunities for collaboration.
> Register for the next Summit on July 15, 2021
---

---