Achieving an aligned team vision and strategy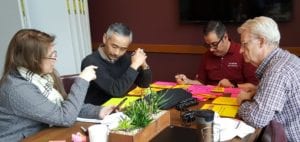 The Ask
Finding alignment on a singular vision can prove to be challenging in a large team environment. If everyone isn't on the same page, it can hinder the success and growth of the team. When Territory was approached by a major commercial truck manufacturer with this challenge, it was an exciting opportunity to facilitate the alignment on a new strategic vision within their new team and to design an accessible communication tool for everyday use. The objective was to infuse a continuous improvement mindset into their workflow, help give them the relevant tools and guidance necessary for their future success, and establish key strategic initiatives for the team.
The Solution
Three separate facilitated workshops took place to establish collective goals, gain alignment on a shared vision, and foster collaboration in developing their new strategy. The workshops focused around clearly identifying friction points in their operations and how specifically they were going to integrate continuous improvement into the team's workflow. Through Territory's proven method, the team came together with a clear vision, built newly-found camaraderie, and designed a new visual communication tool that illustrated all the desired initiatives, goals, and behaviors of the team. This tool provided an easy and accessible way for employees to identify their work objectives and align on a collective vision for the team.
The final result for the company was a concise strategy and accompanying visual illustration that the team could use to help guide their success in the coming year. It was shared at a company-wide meeting to bring the rest of the organization along on the journey to achieve key strategies in line with the overall company's goals. Territory helped consolidate all the independent ideas, behaviors, and visions from within the group and directed the collaborative development of their new strategy.