Creating Customer Experience Training
The energy industry is changing rapidly. Consumers now have more choices than ever before. Innovations in both energy technologies and marketplace are changing the expectations customers have of their energy providers.
The Ask
To address this real market-changing challenge, the learning experience team of a public utility client is pursuing a strategy focussed on fostering understanding of the unique experiences of their customers and the skills required to best support and service them that will:
Create a customer-centric culture
Build customer trust and respect
Produce proactive, not reactive, responses to customers
Reduce high-stakes or escalated customer interactions
Exceed customer expectations
The program should accommodate employees at various levels (e.g. support centers, field service teams) and also tackle the very human problem of balancing physical safety with the emotional states of customers in need of power to "live life."
The Solution
The goal of the training program is to equip employees at all levels with a customer-centric mindset and a set of tools for creating an exceptional experience for customers. Meeting this goal requires a series of learning experiences that provide awareness and understanding of what it meant to be a customer-centric employee. Developing a customer-centric culture requires empowering every employee to act as a true customer advocate. In other words, under a broader mission, the aim is to collaborate as an organization to create a proactive—not reactive—cultural mindset.

Based on the program's objective, the client's strategic needs are to:
Instill a customer-centric philosophy among employees and create a culture of customer service
Develop a competitive advantage in the area of customer service
Find new innovative ways of serving customers
Improve customer relations and satisfaction in a variety of interactions with staff, and strengthen loyalty to the company as their energy provider
Reduce escalated or high stakes interactions with customers
Territory was hired in the first quarter of 2020 to accelerate the development of this strategy.
Enter COVID-19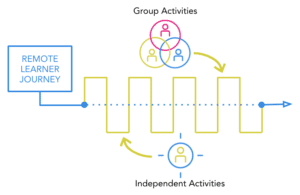 This project started before the COVID pandemic had hit the global stage. The original plan was to design and deliver a series of day-long in-person classes. Once it was clear that these classes were not feasible, Territory helped the customer leadership team pivot by creating a compelling remote learning experience. The new design included webinars, personal and cohort learning, and resources available for asynchronous study.
Fortunately, initial development began before March 2020, enabling the team to hold a set of collaborative in-person workshops. Territory worked with the client to frame a training curriculum and the supporting activities for a set of courses.
The curriculum was designed to provide employees with the techniques and resources to deliver a better experience to customers considering their unique experiences. The activities and deliverables that were employed for the customer-centric learning program were:
Strategic planning meetings
Learner pre-assessments
Learner content and scaffolding, including:

Prework
Interactive Live Training
Social Learning Cohort Support
Multiple Touch Point Refreshers

Instructor-Led Training (ILT) Guides, including:

Presenter's Decks
Activity Playbooks
Learner Tools, including:

Field Guides
Retention Exercises
Extended Learning Modules
Learner Post-Assessments
Training Effectiveness Assessments

Learner post-assessments and analysis

The learning curriculum's design went through regular review and feedback cycles to ensure deliverables met expectations and resonated with the needs of the learner. The innovative and transformational program kicks off in 2021. Feedback on the design and materials from a group of employees who were engaged to both learn and give feedback has been very positive. Here's to a new culture for the client and a great new year for us all!