Harmonizing new ways of working across a multinational organization
The Ask
OECD (Organisation for Economic Co-operation and Development) is a global intergovernmental economic organization that works with member nations to improve the well-being of people both socially and economically. As an international organization, OECD's ability to clearly and effectively communicate with a diverse group of associates to reach common goals is paramount to the success of its mission. Ensuring focus on solving common problems requires a common approach to communication and problem resolution. OECD sought to streamline their internal process of creating knowledge documents, resolving issues, and creating published outputs, ahead of undergoing a company-wide digital transformation. To achieve these goals, they reached out to Territory to help analyze and assess their current approach and evolve their processes to harmonize the organization's approach to creating content, such as white papers and treaties, to achieve their objectives.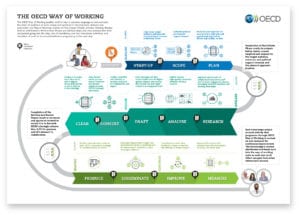 The Solution
Territory began its work by holding informational workshops in which OECD's original processes were reviewed and analyzed in-depth. The initial workshops were pivotal in gaining an insider's perspective on how OECD functioned as a whole, and within specific directorates, throughout the content creation process. OECD's processes were examined for flow, continuity in approach, as well as to find points of conflict and ways to resolve them.  From these workshops, Territory gleaned information regarding the key stages in OECD's processes and was able to craft a strategy for harmonizing each stage into a new streamlined process.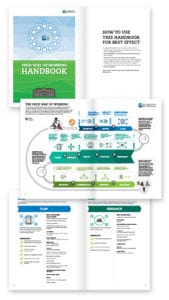 The result of Territory's partnership with OECD was a customized redesign of the process OECD staff follow in exploring and executing objectives and publishing their results. Employees at all levels within OECD benefit from a unified approach to their work and a common procedural language that improves efficiency and effectiveness within the organization. Besides a comprehensive reporting of all activities, findings, and recommendations, Territory designed an intuitive and illustrative process map of OECD's harmonized way of working, which served as a visual manifestation highlighting the specific benefit each phase within the process and serves as a quick, step-by-step reference to staff in guiding their action. In addition, Territory provided OECD with a print Way of Working Handbook, along with an accompanying digital version of the illustrated process that took all users through the new process, step by step.