Customer retention as a path to innovation
The Ask
Customer retention can make or break your business. Even when attracting new customers is a breeze, all too often only a small percentage of these customers return for repeat business. At best, failure to convert strong customer interest into lasting loyalty is a missed opportunity. At worst, it's a threat to the viability of your business.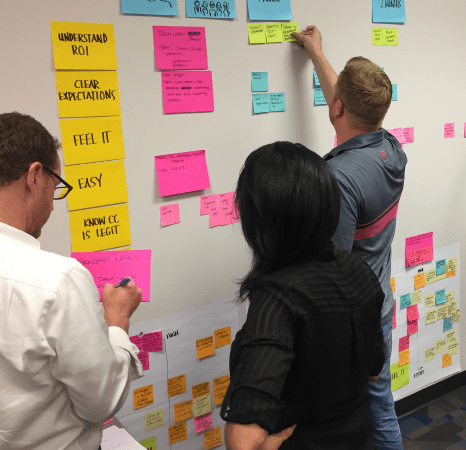 Not long ago, a prominent omni-channel marketing firm approached Territory with this problem. Despite significant revenue growth (and a remarkable product that appeared custom fit for repeat business), they were only retaining 30% of new customers. The company sought Territory's help to explore and improve their client retention strategy.
The Solution
Working alongside the company's leadership team, Territory embarked on an intensive engagement to define the core needs of their customer segments, map the customer journey, identify key opportunities, and explore how to deliver on them.
In the course of identifying multiple opportunities to improve retention, the team uncovered significant unmet customer needs within the product offering. This discovery led to a discussion of the company's value proposition and how to maximize the value of the product offering for a diverse and rapidly evolving customer base. From this, Territory was able to help the leadership and product team develop a set of product offerings and revenue models. These prototypes were shared with a select group of customers (representing different demographics) for validation and feedback in an immersive workshop setting.
As a result of this effort, Territory developed short-term tactical recommendations for the company that addressed customer experience-based retention and also delivered long-term recommendations for evolving their business model to align with increasingly sophisticated customer and market needs.