Imagining new digital business solutions to help the world
UNESCO gave us the opportunity to help them dream big: how could they take their old digital business system and transform it into a new efficient infrastructure, creating value for its learners, community, and the global organization.
UNESCO (United Nations Educational, Scientific, and Cultural Organization) is renowned globally for its important mission – to help strengthen ties between nations and societies by coordinating international cooperation in education, science, culture, and communication. For a global network of dedicated professionals, ensuring clear, effective, and simple communication and collaboration methods is the lifeblood of their operations.
The current strategy of UNESCO's IT department, known as Digital Business Solutions (DBS) was agreed from 2018 to 2021 and needed to be renewed for the next period of years.
Where there is strong focus on improving efficiencies and basic infrastructure in the current activities and strategy, the new strategy needed to be focused around digital transformation to allow optimal use of DBS technological developments.
The new strategy needed focus and attention on the key concepts of cyber-security, innovation, knowledge sharing, collaboration and connectivity, digitization, resilience, transparency, agility, partnerships, new ways of working/digital citizens and big data.
UNESCO's Chief IT Officer, Omar Baig, came to Territory with a simple request: work with him and his leadership team to redesign current technology business operations and strategy in order to improve efficiency, productivity, collaboration, and communication throughout the organization. They sought to optimize the usage of their technological development services and design "future-proofing" initiatives and bring an emphasis on cyber-security, innovation, collaboration and connectivity, digitization, and new ways of working/digital citizens and big data.
The Ask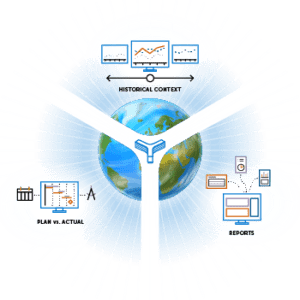 Revise UNESCO's DBS strategic direction, align team ambition level, and collaborate to clarify priorities and evaluate strategic direction for 2022-2025 resulting in:
Shared and agreed upon Digital Business Solutions priorities & objectives
Revised strategic directions
Alignment of ambition level
Identification of key projects
Development of a roadmap and proposed implementation timeline for the DBS strategy including key activities
The Solution
In order to tackle this exciting project, we split the work into a set of clearly-defined phases. First, we reviewed all reference materials and documentation, including the prior 4-year IT Strategic Plan we helped UNESCO develop.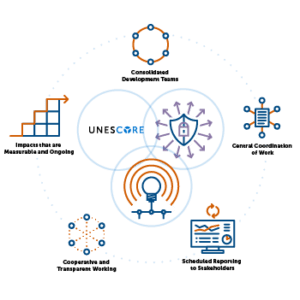 We then remotely facilitated a series of workshops with the UNESCO Digital Business Solutions leadership team to better understand UNESCO's current direction. During these meetings we were able to assess, discuss, evaluate, and align on its strategic priorities. We focused on reviewing the prior Strategic Plan and its key priorities and initiatives. This allowed us to Identify and discuss and compare current stakeholder needs priorities to establish dependencies and initial prioritization based upon UNESCO current strategic requirements.
As the last step in the current phase of our engagement with the UNESCO DBS team, we conducted a survey of all team members to gain insight into their understanding of, opinions about, and readiness to embrace the proposed DBS changes.
The survey unearthed important observations and revelations, pointing out most staff understand the DBS transformation initiative and have a basic appreciation of the reasoning for it. And it was very clear there is a great opportunity for tangible results, which will require precise execution of the new strategic plan and priorities.
And one of our key recommendations was to build trust in the planned change – there are a variety of ways to build trust in any significant change initiative, but they all come down to the "Trust Triangle":
Shared vision, repeated and built on at every opportunity
Two-way communication, frequent and as transparent as possible
Promises kept, demonstrating commitment to actions rather than words
UNESCO's DBS group has started on its transformation plan and critical next steps will include continued efforts to build collaboration among leadership, active outreach plan to key functions outside of DBS – since much of success will depend upon engagement and support from other functions, communicating and interacting with clear focus and a unified voice will be important.