How to make a virtual conference come to life
Virtual conferences are here to stay. Territory is using design and visual thinking to better engage conference audiences and deliver meaningful post-conference content.
The Ask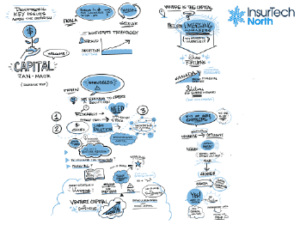 Virtual conferences are the new reality. We'll get back to in-person in the near future, but with greater accessibility, zero-travel, and flexible, view-on-demand content, the virtual conference is here to stay. However, our online fatigue is real, and it's easy to zone out or lose key messages.
When InsureTech North was planning their annual gathering of financial and insurance technology experts from across North America, they knew they needed a differentiator to bring a new energy to the event. They reached out to Territory for innovative new ideas and to add some spark to the event.
The Solution
Territory provided real-time graphical capture and visual thinking across four synchronous sessions at the same time, aligned with the conference goals and objectives. Having visual representation of the discussion and content drove a much higher level of engagement and energy both during and after the conference. In addition, Territory provided InsureTech with additional post-conference collateral to use in social media and marketing.
The client was extremely pleased with the result, adding that bringing the conversation to life led to a more engaged and participatory audience. Participant Feedback echoed the client's, with many post conference comments about significantly increased impact and engagement from the sessions.