Crafting a vision of what's possible
The Ask
You can have the best value proposition in the world but, if your sales team isn't able to effectively convey that value to customers, your business will suffer.  For a global enterprise technology provider, currently defining the digital revolution with its innovative cloud-based solutions, success is based upon convincing customers and prospects of the value they can bring to their business, especially in a world of increasingly digitally-connected products and services. Helping customers develop that clear understanding rests on the ability of the global enterprise technology provider's sales team to paint a picture of what's possible for customers to achieve with their support. To achieve this goal, this technology provider sought to equip the sales team with a communication tool to illustrate to its customers and prospects the digital transformation future that they are building.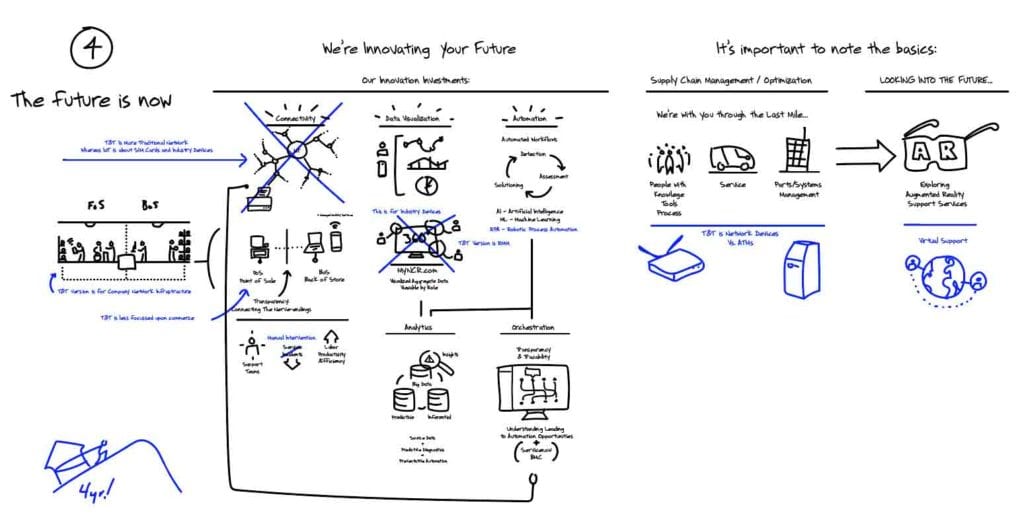 The client first needed to clearly articulate its digital transformation value proposition. Then, they sought a visual representation of their digital transformation value proposition and commitment to customer success to use in gaining awareness and rapid understanding of services for prospective clients.
The Solution
Territory kicked off the project by holding a two-day workshop where stakeholders identified the key elements of digital transformation story and began visualizing how that story will guide and empower sales representatives in their conversations with customers. At the start of the engagement, each member of the technology provider's team had their own personal version of the digital transformation story.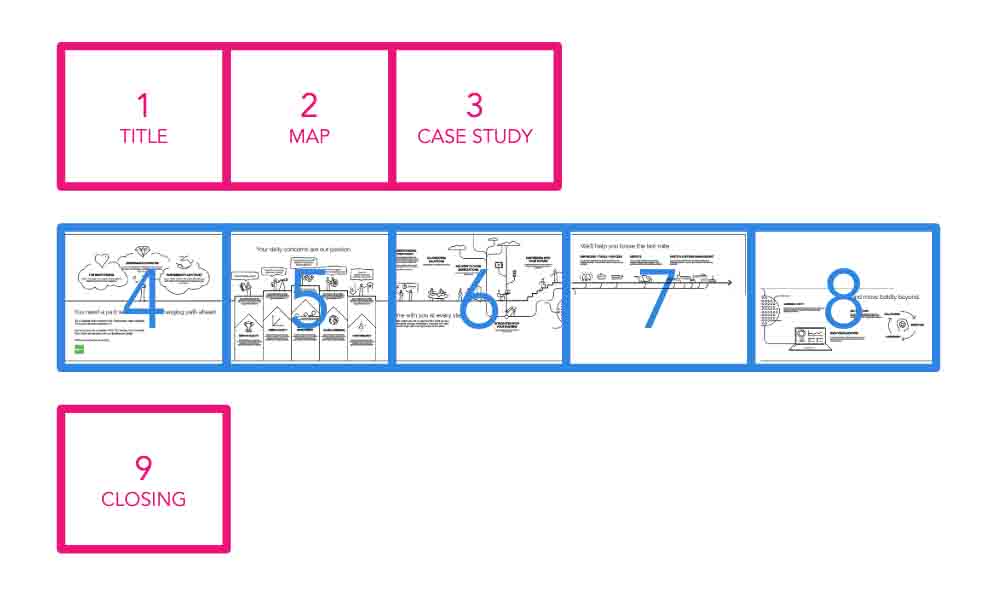 The first priority was to bring all these different versions of the story into the open, explore them, and then to align on a single story that forms the foundation of the digital transformation value proposition. Once a clear and concise story emerged, Territory went to work, designing the digital transformation story to customers in a visually engaging and highly-informative manner.
The end product of Territory's work with this client was a sales enablement deck clearly explaining the digital transformation services and the value they bring to customers. A PowerPoint presentation highlights the value they bring to customers as a partner in their digital transformation,  working methodology, and their commitment to customer success. The deck tells the story of digital transformation services in a visually compelling manner that is simple to understand and puts the customer at the center of focus. Sales representatives will leverage this storytelling tool to better communicate with prospects, educate them on services, and answer their unique digital transformation needs.